Tree Removal
Professional Tree Services from Certified Arborists
Tree Removal in Cape Cod
Equipped to Safely Remove Damaged Trees
At Altura Tree Service, we strive to keep trees healthy whenever possible. However, there are times when a tree must be removed.
We provide tree removal in Cape Cod and the surrounding areas for trees that are dead, dying, or otherwise hazardous. We are proud to offer both residential and commercial properties national-level service from a local company.
If you have a tree that needs to be removed, please contact us online or calling 508-733-4357 for a free estimate.
When Tree Removal Is Necessary
While saving a tree is always an important goal, there are situations that require tree removal. Dead, decayed, and damaged trees are more than just an eyesore. There is a risk that the tree could fall on its own, hitting a house, passerby, vehicle, or other nearby structure. When a tree is not in good health or poses a safety risk, it is better to have a professional take the tree down safely.
Tree removal may be necessary when:
A tree is dying or has interior decay
Trees are dead
There is significant disease or insect infestation
A storm has damaged a tree beyond repair
A tree is too close to a building or utility lines
There is risk to a home or other structure
You need to clear some space to allow other plants to get sunlight
When a tree needs to be removed, it is best to get the job done as soon as possible. Allowing a decaying or dying tree to remain on your property increases risk of serious damage to your home or commercial building, as well as the person removing the tree. We provide prompt and reliable tree removal in Cape Cod from trained and experienced professionals.
Tree Removal Can Be Dangerous
Tree removal is the most hazardous of all tree services. Trees that need to be removed are often growing close to buildings, utility lines, and in confined spaces. Attempting to remove a tree on your own or hiring an inexperienced person to take the tree down can result in damage to your property or severe injury. In order to prevent serious injury or property damage, the job should be left to a certified arborist with the right experience to safely remove the tree.
Our Cape Cod tree removal experts have 25 years of experience, and our arborists are highly trained and equipped to provide safe and efficient tree removal. We leave the stump as close to the ground as possible and thoroughly clean up the debris after the tree is down to minimize the impact on your landscape.
Benefits of Tree Removal Services:
Property Damage/Injury Prevention
Maintain Your Environment Clean
Save Time & Money
Better View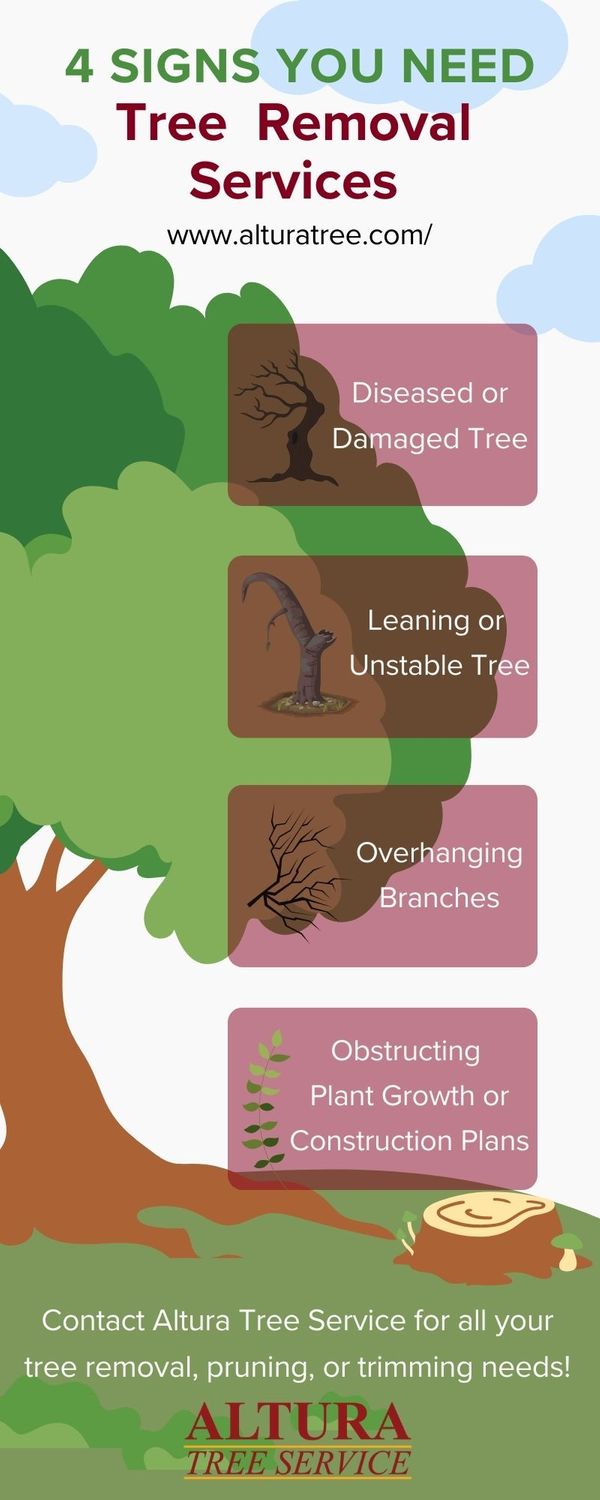 Get Your Problem Tree Inspected
If you have concerns about a tree but aren't sure that it needs to be removed, we can help. Our certified arborists can inspect your tree to check the overall condition and health and determine if tree removal is necessary. When a tree must be removed, we can determine the most efficient and practical approach to take the tree down.
We encourage you to contact us today at (508) 733-4357 to request a free estimate for tree removal and schedule service.
Why Choose Altura Tree Service?
Honest, Reliable, Disciplined & Safe
Certified & Insured Expert Arborists
On the Cutting Edge of Tree Service Technology
Providing Tree Care Services for Over 25 Years
Request Your Service
Get in Touch With Us by Filling out the Form or Calling (508) 733-4357